On 25th September, 2017, TDCC and MCSD signed a Cooperative Memorandum of Understanding, with an aim of improving both parties'international business development and establishing future cooperative mechanism. The signing ceremony, taking place at TDCC, was marked by the official signatures of Chairman & CEO Sherman Lin and MCSD Executive Director & CEO, Mr. Shagdar Lkhagva. Mr. Panidjunai Khaliun, Chief Representative of Ulaanbaatar Trade and Economic Representative Office in Taipei, as well as other officials also witnessed the ceremony.
With profound potential, Mongolia's securities market has seen rapid progress. The financial and securities authorities along with associated agencies in Mongolia have sent delegates to Taiwan several times; Financial Supervisory Commission (FSC) R.O.C, Taiwan Stock Exchange Corporation (TWSE), Taipei Exchange (TPEx), Taiwan Securities Association (TSA), and TDCC have also sent delegates to Mongolia's concerned agencies for exchange of Taiwan's capital market system and successful development experience.
As Mr. Sherman Lin pointed out, the long-term cooperation between TDCC and MSCD has lasted over ten years. Bilateral visits, training programs, and exchange have been close; in addition, visits between both Chairman of Taiwanese FCS and Chairman of Mongolian regulatory Commission have been arranged, and plenty of precious opinions and suggestions on securities market administration have also been exchanged. During MCSD's visit this year, exchanges and communications among FSC, TWSE, TSA, and other agencies were also organized to improve bilateral cooperation. In recent years, TDCC has been devoted to diversified business development. This year's bilateral business exchange involved TDCC's core businesses and other innovative practices such as StockVote, cross-border custody and settlement, TDCC ePASSBOOK, anti-money laundering reference platform, and reinvestment in the online mutual fund platform "FundRich." MCSD expressed admiration and compliment toward TDCC's convenient operating system and advanced IT system. Also, the rapid and comprehensive application of StockVote to listed companies and drastic advancement of corporate governance ranking from ACGC won considerable praise from MCSD. MCSD also looked forward to opportunities for further cooperation in the future.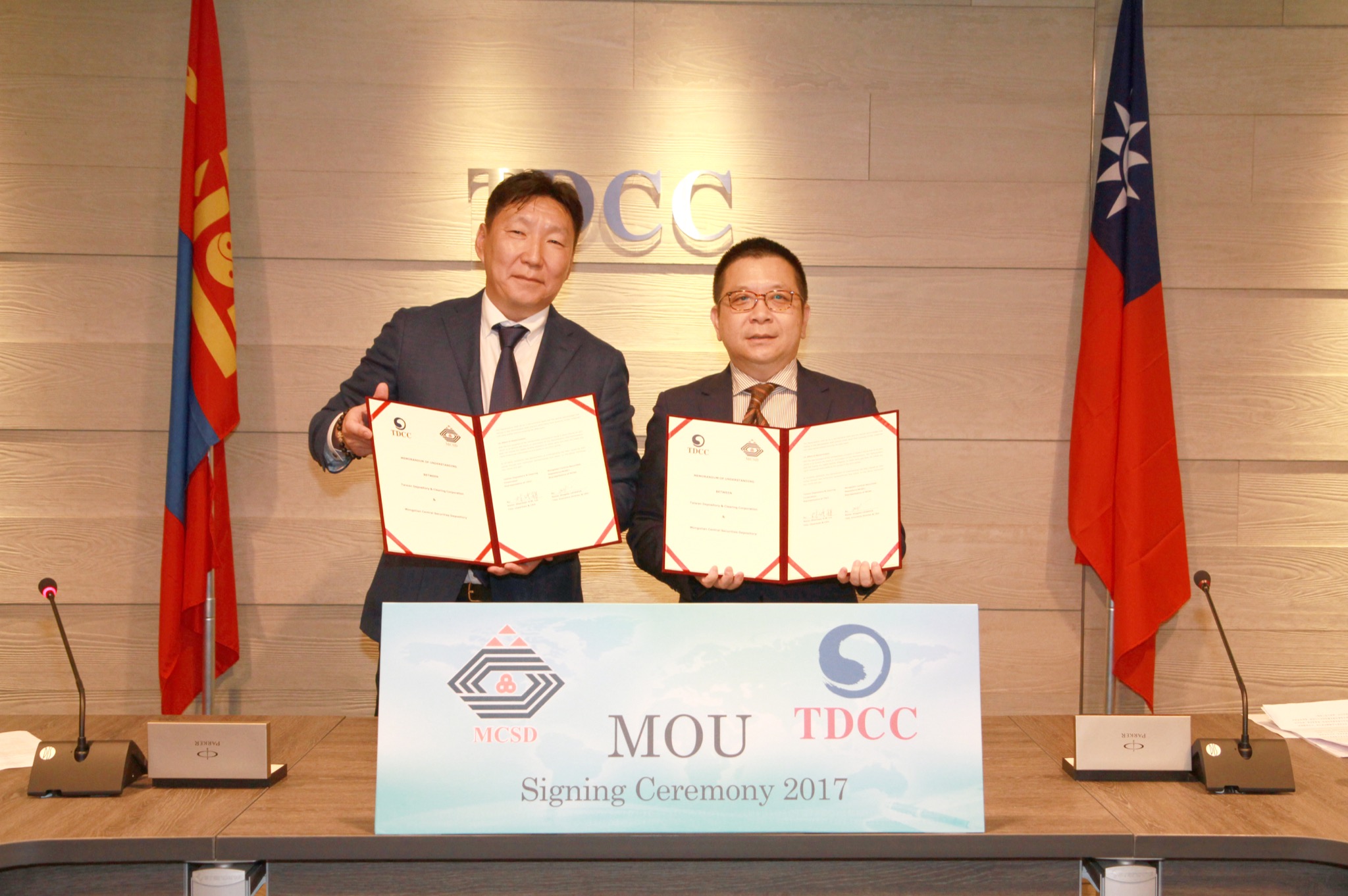 The MOU was signed by Chairman & CEO of TDCC, Mr. Sherman Lin(right), and Executive Director & CEO of MCSD, Mr. Shagdar Lkhagva(left), in Taiwan.