Securities distribution by issuers
By signing a contract with WUS Printed Circuit in November 1992, TDCC officially launched book-entry services for securities distribution. Investors are spared the trouble of collecting physical stock certificates in person when a company issues new shares, and issuers won't need to gather a huge workforce to distribute shares. Given an increasing variety of products in the market, and the full dematerialization of all securities traded on TWSE and TPEx from July 29, 2011, issuers no longer distribute physical certificates to investors. TDCC also expanded the asset classes eligible for book-entry distribution to call (put) warrants, depository receipts and beneficiary certificates. Stock dividend distribution, collection of collateral for margin trading and transfer of allotments to shareholders of a discretionary investment scheme are also processed in book-entry so that all market participants can access our services that are safer and more convenient. TDCC distributes securities to the accounts of participants and their clients in book-entry on a prescribed date based on the register compiled by an issuer.
Operation Flow Chart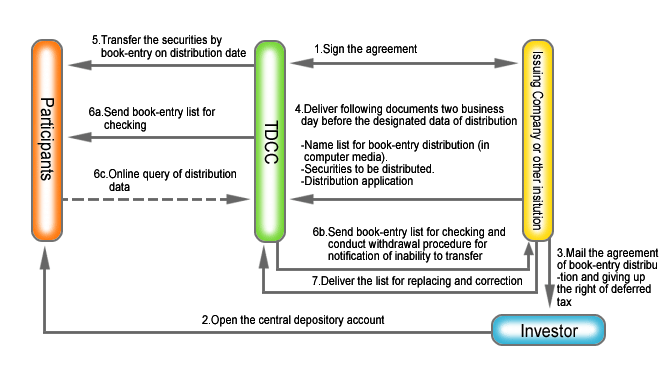 Computerized securities processing
The contractual relationship between investors and TDCC is indirect in the sense that investors open an account with a participant, and the participant opens an account with TDCC to be involved in our central custody system. That being said, investors can directly access our custody services thanks to the contracts participants signed with TDCC.
TDCC provides account administrative services, including statement print-out, documentation and data storage to the clients of participants. Below is an overview of our computerized processing functionality:
Provision of operating system
The functionality is mainly comprised of two modules: connected and batch processing
Connected processing
Participants can connect to our server to perform the following tasks:
When an investor opens a securities account with a participant, the participant should input the client's full name, ID number, domicile, correspondence address, payment account number and agent (broker) symbol to our system. Changes to the aforesaid information should be made in the same manner.
When a client makes a deposit, withdrawal, appropriation or real-time transfer of securities, the participant should input the transaction data to our system for update on the client's passbook.
When a new passbook is issued to a client, either for account opening or replacement, and when a passbook undergoes entry update or is reported lost, the participant should input the data to our system.
When an out trade is reported in the daily transactions, or when there's an error in the account number, or a change of order instruction is required, the applicant should make corrections where applicable to the stock exchange.
Daily account reconciliation
Participants may reconcile client accounts and print out records of margin trading via our system.
Review of previous trades
Participants may look into the background information, account balance, transaction records and records of insufficient deposit of their clients via our system.
Batch processing
TDCC processes the transfer of securities and distribution of new shares in book-entry for clients of securities brokers, and produces a backup of important data in batches when the connected processing system is closed at the end of a trading day. Below is an overview of our batch processing operations:
Preliminary calculation of transactions
TDCC examines the accounts of participants' clients to see if the deposit balance is sufficient to carry out book-entry settlement based on the transaction records compiled by TSWE or TPEx on a daily basis. Any insufficient deposit will be documented. Participants can connect to our system to see if any of their clients have insufficient deposits so that they could remind clients to make up the shortfalls as soon as possible to complete the settlement.
Transfer of transaction data
TDCC compiles the transactions data (in two different entries of BUY and SELL) on the day of transaction and investors will be able to update their passbook entry the next day.
Book-entry distribution of new shares
When a company issues new shares, TDCC carries out book-entry delivery of the new shares a day before they become tradable on the market based on the custody account number, name, owner's ID (the owner could be an individual or a company) or tax code number of withholding agency, and quantity data provided by the issuer. The distribution will be registered and a statement will be produced for participants' reference.
Title transfer and principal/ interest payment agent services
TDCC compiles an ownership register, which is a list of people, that is, participant clients, holding the securities of a company when the issuing company announces suspension of title transfer. The register is provided to the issuing company or its registrar agent for title transfer before the record date. Principal and interest payments of bonds in the central custody of TDCC are made entirely in book-entry, so the clients (bond holders) have to open an account with a financial institution designated by the securities broker they do business with in order to receive the payment. The redemption bank will transfer funds directly into clients' accounts according to the register and amount details provided by TDCC.
Main data file maintenance and backup
TDCC processes the main data file for every participant containing daily account reconciliation, passbook issuance, and contract termination data after the connected system is closed at the end of a trading day. A duplicate of the main data file is produced and stored at a separate device.
TDCC handles the borrowing and returning of securities for securities brokers based on the instructions of stock exchanges.
Ledger production
According to the regulations of TDCC, participants should keep a ledger recording the daily changes in holdings and the balance of their clients. The ledger is in electronic form and entrusted to TDCC for production. To make sure participants have a complete copy of the general ledger and sub-ledger, an electronic statement of daily transactions and balance is sent to participants for their safekeeping.
Safekeeping of certificates
Participants are required by law to keep their client ledger and related certificates for at least fifteen years. To help relieve the pressure of keeping all the documents, TDCC is appointed by participants to keep the ledger and other documents in electronic form. In case participants need a hardcopy of the documents in the future, TDCC can print out the documents and put on a company seal as a proof of authenticity upon the formal request of a participant. In case a public issuer requests an investor to provide a proof of holding certain securities for a long time, TDCC can also provide the record on behalf of the participant.