TDCC e-Passbook
TDCC engages in the build-out of a digital environment for book-entry operations as part of the government's efforts to develop financial technology. For this major undertaking, TDCC has been focused on two elements: mobility and integration, which gave rise to the development of TDCC e-Passbook, an application we launched officially at the end of March 2017, as we aim to provide more economic and convenient services to the securities market.
Compared to a physical passbook, TDCC e-Passbook features integrated asset management. This means investors can integrate multiple accounts from different brokers into the application and check their holdings and transactions via a single mobile device. The application also provides other value-added services, such as notification of over 20 kinds of corporate actions and market events (e.g. shareholder meeting and tender offer). In addition, to uphold shareholder activism, the e-Passbook application provides the link to our shareholder meeting e-Voting platform.
Investors can link their accounts to the e-Passbook in just three steps: (1) lodge an application, either by visiting a physical branch, or applying online, or calling the securities broker they do business with; (2) download the e-Passbook application; and (3) activate the securities passbook function. To help investors and brokers have a better understanding of how the e-Passbook works, TDCC has built a dedicated website where information about the application process and user instructions is provided. Here's the link to the website: https://epassbook.tdcc.com.tw/
STOCKVOTE Platform
To provide Taiwan market with full mechanism for shareholders to execute their voting rights, TDCC has completed the implementation of e-voting platform, STOCKVOTE in 2009 by following the order of competent authority.
Issuers, after signing contracts with TDCC, will be able to offer electronic voting services to their shareholders through the platform, which will have the same effect as attendance in person at general meetings. By utilize the Internet as its user interface, STOCKVOTE allows investors to log in to the system for voting with secure ID check mechanism, i.e., identification by user's CA (Certificate of Authentication). Following the launch of this new platform, shareholders will be able to exercise their voting rights regardless of distance, and concentration of general meetings. Each voting record is embedded with a digital signature of CA. There will also be a full audit trail for those e-voting record.
On receiving a notice of general meetings, shareholders would be advised whether the company has provided electronic voting services. Alternatively, the shareholder may access the website of STOCKVOTE (https://www.stockvote.com.tw/) to get to know if the company adopts TDCC's "STOCKVOTE" for their general meetings. After logging in to the system with CA, the shareholder may choose the specific company and input his/her/its Shareholder Account Number to access the agenda and related details of the general meetings, and then exercise their rights through electronic voting for those proposals.
For foreign institutional investors and mutual funds, e-voting can be done through their agents or representatives such as custodian banks and securities investment trust firms (SITEs), etc. Apart from using CA to verify the identity of these agents/representatives, TDCC also designed the confirmation mechanism of voting contents for these agents/representatives to meet their internal control. Furthermore, online voting and batch voting are also available for these agents/representatives to make the operation more convenient.
Production of securities register
Since the book-entry central custody system became operational in 1990, TDCC has produced and delivered registers of securities held in our custody to issuers three days prior to the period of suspension of title transfer announced by issuers, as required by Article 43 of the Securities and Exchange Act, Article 32 of Regulations Governing Book-entry Operations for Centrally Deposited Securities and Articles 90 and 99 of our operating guidelines.
According to the Explanatory Letter No. Jin-Shang-10102446370 of the Ministry of Economic Affairs dated January 7, 2013, the shareholder meeting convened by minority shareholders and supervisors shall enjoy the same legal status as the meeting convened by the issuing company. TDCC has also put in place an application procedure for minority shareholders or supervisors to access the register to protect their rights as a meeting convener and investor.
Automated corporate action information transmission
In order to enhance the operating efficiency of the market, TDCC established C.A.Net, a dedicated corporate action information website in April 2013 upon the approval of the competent authorities. The purpose of C.A.Net is to provide electronic corporate action services (excluding voting) for depositories and issuers' corporate action units.
With more companies going public on the TWSE and TPEx markets, depositories and the corporate action units of issuing companies had to put in a huge workforce to manually process information of dividend distribution and tax benefits and keep foreign investors informed, either by email, facsimile or inquiry letter, and a standardized operating procedure was nonexistent. As such, in March 2014, TDCC incorporated into C.A.Net a system of information transmission between depositories and the corporate action units for matters regarding dividend distribution and tax benefits, and provided a standardized operating procedure and message format to ensure safe, efficient and convenient exchanges of information between depositories and issuers, consequently improving the market efficiency and reducing the operating costs and risks.
Straight Through Process (STP) service
Given the recommendation of the Asian Corporate Governance Association (ACGA) in its 2011 annual report that Taiwan should establish a STP mechanism to facilitate participation in corporate actions and voting by foreign shareholders, and in response to the Corporate Governance Blueprint laid out by competent authorities, TDCC had worked with Broadridge on automated transmission before introducing our own STP mechanism in December 2014 to provide various services including (a) review of holdings statement for domestic depositories and the corporate action units of issuing companies; (b) forwarding of English meeting agendas on behalf of depositories; and (c) receipt of voting instructions from clients of depositories from overseas and the subsequent data processing.
With the STP mechanism in place for cross-border voting by foreign investors, depositories and issuers can create standardized, automated and streamlined operating procedure as far as voting is concerned. The improved voting efficiency will reduce the risks and costs of market operations. Investors now have more time (2-4 extra days versus without STP) to vote, and issuers also have more time to win the support of foreign investors for their proposals.
Taiwan Bills Index Rate (TAIBIR)
As the floating interest rates for numerous domestic financial instruments including interest rate derivatives, notes issuance facilities (NIF), fixed rate commercial paper (FRCP), syndicated loans, and bonds are linked to the interest rate index on commercial paper, to make the bills interest rate index to which financial markets are linked more accountable, representative, and manipulation-resistant, the R.O.C. Bills Finance Association plans to establish an interest rate index for short-term bills. The Association set up a task force to study and discuss the relevant issues, and has also engaged TDCC to handle the relevant compilation operations. Key points in TDCC's index compilation plan are as follows:
The name is the Taiwan Bills Index Rate ("TAIBIR").

TDCC select 20 or more members of the R.O.C. Bills Finance Association as co-calculation agents based on the following criteria:

Bills houses exclusively engaged in bills business are ipso facto calculation agents.
Any bank or securities firm concurrently engaged in bills business, whose market share of secondary market short-term bills trading volume has reached a certain percentage in the most recent year.
Well-funded domestic banks.
Any foreign bank that has conducted short-term bills transactions in the most recent year, or that is selected by TDCC.

The scope of quotes is the interest rates quoted each day for short-term bills in the primary and secondary markets.

Quote input schedule: from 9 a.m. to 12 noon each day.

Compilation of the index rate: the fixing rate is calculated once per day, at 11 a.m. on the hour.
Monitoring system: TDCC conducts real-time, on-line monitoring every business day, and provides real-time information to the competent authority and the Central Bank of the Republic of China (Taiwan, CBC) for reference.
Handling of irregularities: The R.O.C. Bills Finance Association performs an evaluation of any irregularity on the part of a calculation agent, and issues a warning, require corrective action, or cancel the calculation agent's qualification, as merited by the circumstances.
The calculation agents described above primarily were drawn from enterprises exclusively engaged in bills business, with an aggregate secondary market share that already exceeds 80 percent. Their information will be representative and not easily distorted, and leave little room for price collusion or interest rate interference, thus providing a definite degree of fairness.
Offshore Structured Notes Market Observation Post System
To enhance the transparency of the offshore structured product market and protect the rights and interests of investors, the Financial Supervisory Commission (FSC) on 23 July 2009 issued the Regulations Governing Offshore Structured Products. Key points of the Regulations include distinguishing professional and non-professional investors, establishing a master agents system, prescribing the credit ratings that must be held by investing institutions and the structured products themselves, setting the conditions for accepting orders or making sales, establishing a review system that operates through self-regulatory channels, and clearly prescribing investor protection measures and disclosure obligations. In addition, to put into effect the self-regulatory functions and to provide for timely review procedures, the FSC has authorized the Taiwan Financial Services Roundtable to set out the "Rules for the Review and Administration of Offshore Structured Products", according to which, a review panel formed by the trade associations of trust enterprises, securities firms, and insurance enterprises and trustee institutions or sub-distributors will be in charge of the review of offshore structured products.
The FSC also designated Taiwan Depository & Clearing Corporation (TDCC) for the task of setting up an Offshore Structured Notes Market Observation Post System to fully disclose relevant information on complex financial instruments such as structured products, thereby helping reduce the risks to investors. TDCC has developed the related information systems with reference to the Regulations Governing Offshore Structured Products, thereby providing the competent authority, issuers, and master agents with the value-added functions they need for preparation of various statements, automatic reviews, single-currency conversions, market-price calculations, and net foreign-currency payments and receipts calculations. To meet the needs of the structured products review mechanism and to enhance related review operations, the System provides functions that the review groups can use to access information reported by the aforementioned enterprises.
The Offshore Structured Notes Market Observation Post System is comprised of the following two operating platforms:
Reporting platform: This platform is provided to issuers and master agents for reporting information to TDCC, including basic information on the structured products they issue or for which they are agent, sales information such as daily subscriptions and redemptions, reference prices, and material information, which is then subsequently available for access by the competent authority and general investors. Issuers and master agents must compile monthly reports within 10 days after the conclusion of each month for transmission through this platform to the FSC and the Central Bank of the Republic of China (Taiwan).
Public announcement platform: This platform is for disclosure by issuers and master agents when carrying out public announcement of the basic information on structured products, reference prices, product prospectuses, investor guides, publicly announced information, and interest information. Whether an enterprise or an individual, any investor has to do is go online, find the public announcement platform, and use TDCC's user-friendly interface, with its multifunctional, cross-query system, to easily and quickly find the aforementioned information on offshore structured instrument vehicles. The system greatly enhances the transparency of those products and serves as a convenient reference for use by investors in managing their assets.
The TDCC's Offshore Structured Notes Market Observation Post System is located at: (http://structurednotes.tdcc.com.tw),which has the following reporting and announcement system framework: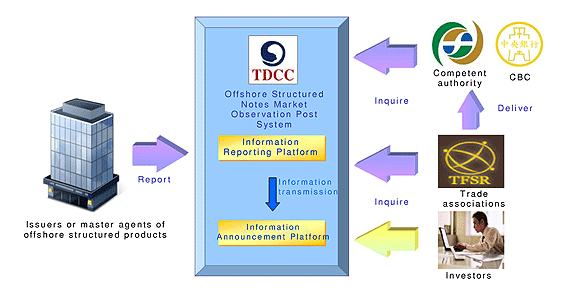 Virtual Matching Utility (VMU)
To enhance market efficiency and help participants reduce their back-office processing costs, TDCC has established a virtual matching utility (VMU) for the transfer, matching and confirmation of trade settlement information between securities firms and custodian banks. This system replaces the manual operation where securities firms send staff to the custodian banks daily for settlement confirmation, and through the automated information service, provides back-office operations with a straight through processing (STP) environment.? TDCC continually expands the scope and functions of the VMU. Currently, the dealers, custodian banks and securities investment trust firms (SITEs) can obtain settlement information through the VMU for them to proceed with the settlement operation. TDCC's VMU system offers the following services:
(1) Information transfer between dealers and custodian banks Securities firms, bond dealers and bill dealers can send the trade settlement information of the stock, bond DVP and bills to the custodian banks through VMU and the VMU system provides the matching function. Custodian banks can also send settlement confirmation information to securities firms through VMU by batch confirmation or trade-for-trade confirmation after verifying customers' settlement instructions.
(2) Inquiries of SITEs TDCC expanded the services for SITEs and starting 2009, SITEs may inquire via online transaction the stock, bond DVP and bills trade settlement information reported by securities firms, bond dealers and bill dealers to facilitate the settlement matching operation between them and the custodian banks.
The VMU system provides convenient trade matching services for dealers, custodian banks and SITEs and establishes the automated and standard operating environment to help participants reduce their operating costs.