:::
Retro Style Competition in Huashan: Register for 1/8 " Joy Is Fun Carnival" ASAP!
2022/01/04
TDCC's Joy Is Fun Carnival will take place lively in Huashan 1914 Creative Park on Jan 8. On that day, in addition to a fantastic catwalk competition, Luo Shi-Feng, dubbed "Everyone's Uncle," and Cheerleader Girls will be invited to join the fun. There will be many retro-style booths to invite you to walk into the time tunnel; you'll return home with all the gourmet food and all the fun!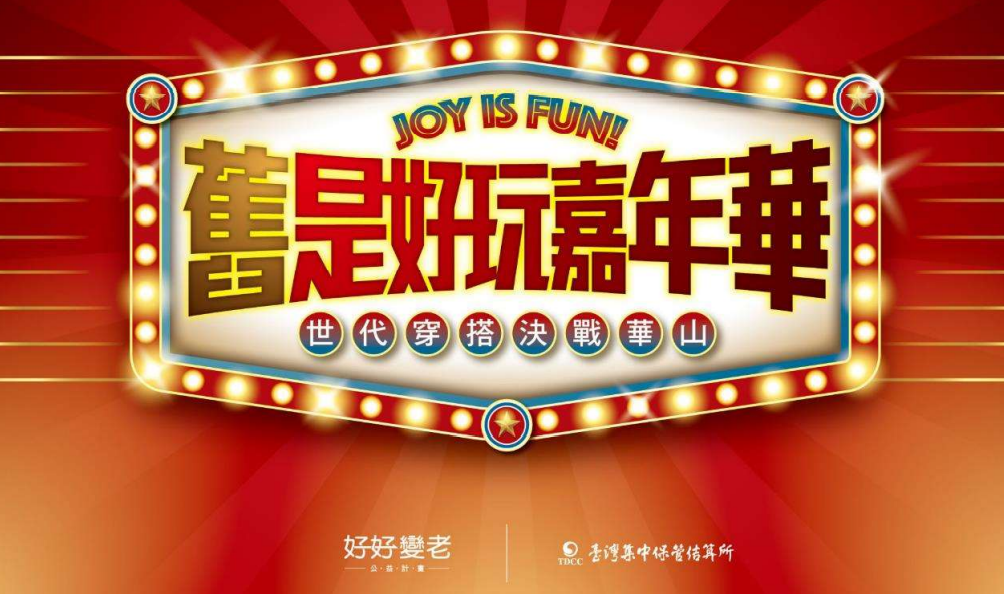 The memories of old times will clash with the new era. TDCC has been actively creating a friendly and safe service environment for the elderly. The company has launched the Enjoyable Aging Donation Project in response to the Pension Platform events and planned to hold the outfit and catwalk competition, "Joy Is Fun Carnival: outfit competition among generations at Huashan" on Jan 8, 2022. Citizens are invited to put on attires of their parents' and grandparents' times; they can win big prizes such as iPhone 13, iPad Air, and Apple HomePod Mini through the classic styles. In addition to the animated outfit and catwalk competition, "All Citizens' Uncle," Luo Shi-Feng, who endorses the Pension Platform, and Cheerleader Girls will be on stage and present old songs and hot dance. There will also be traditional snack stands and night market game stands bringing the recollections of the old times. The completion of the competition entitles you to the lucky draw for prizes such as convenience store gift cards. In addition, at the venue, the annual accomplishments of social welfare groups benefitting from the Enjoyable Aging Donation Project will also be on display. The recruitment of volunteers will also take place, so those who are willing to volunteer are welcome to participate! Don't miss out and take part in this full range of events. Note this time down ASAP and bring the whole family to experience this festive Sunday afternoon!
As Sherman Lin, Chairman & CEO of TDCC, indicates, TDCC hopes to create communication between the young and the old through the Joy Is Fun Carnival. The young and middle-aged can learn respect through their awareness of seniors' mental and physical transformation. Therefore, seniors can fulfill their life values and improve communication with the younger generations through cross-generation interaction. As a senior-friendly social atmosphere is formed, old and young integration will be achieved.
The wisdom of aging is a required lesson everyone needs to take. "Pension Platform" holds the principle of promoting correct financial management concepts and improving citizens' financial knowledge for retirement planning. Indeed, an enjoyable retirement requires early preparation. For more information about the event, please go to the Enjoyable Aging Donation Project in the charity area on "Pension Platform:" https://www.fundrich.com.tw/event/pensionplatform/