TDCC Convenes 2020 Annual General Meeting
2020/06/17
Taiwan Depository & Clearing Corporation held its 2020 Annual General Meeting today (June 17th). The resolution is reached smoothly during the meeting, with a cash dividend of NT$3.5 and a stock dividend of NT$0.25 issued per share.
During the past three decades, TDCC's business has expanded and covered a wide range of financial products, including securities, futures, mutual funds, and fixed income securities. As for services for corporate governance, the platform economy, and internationalization, the results have been increasingly prosperous throughout these years; in 2019, the growth was even more significant.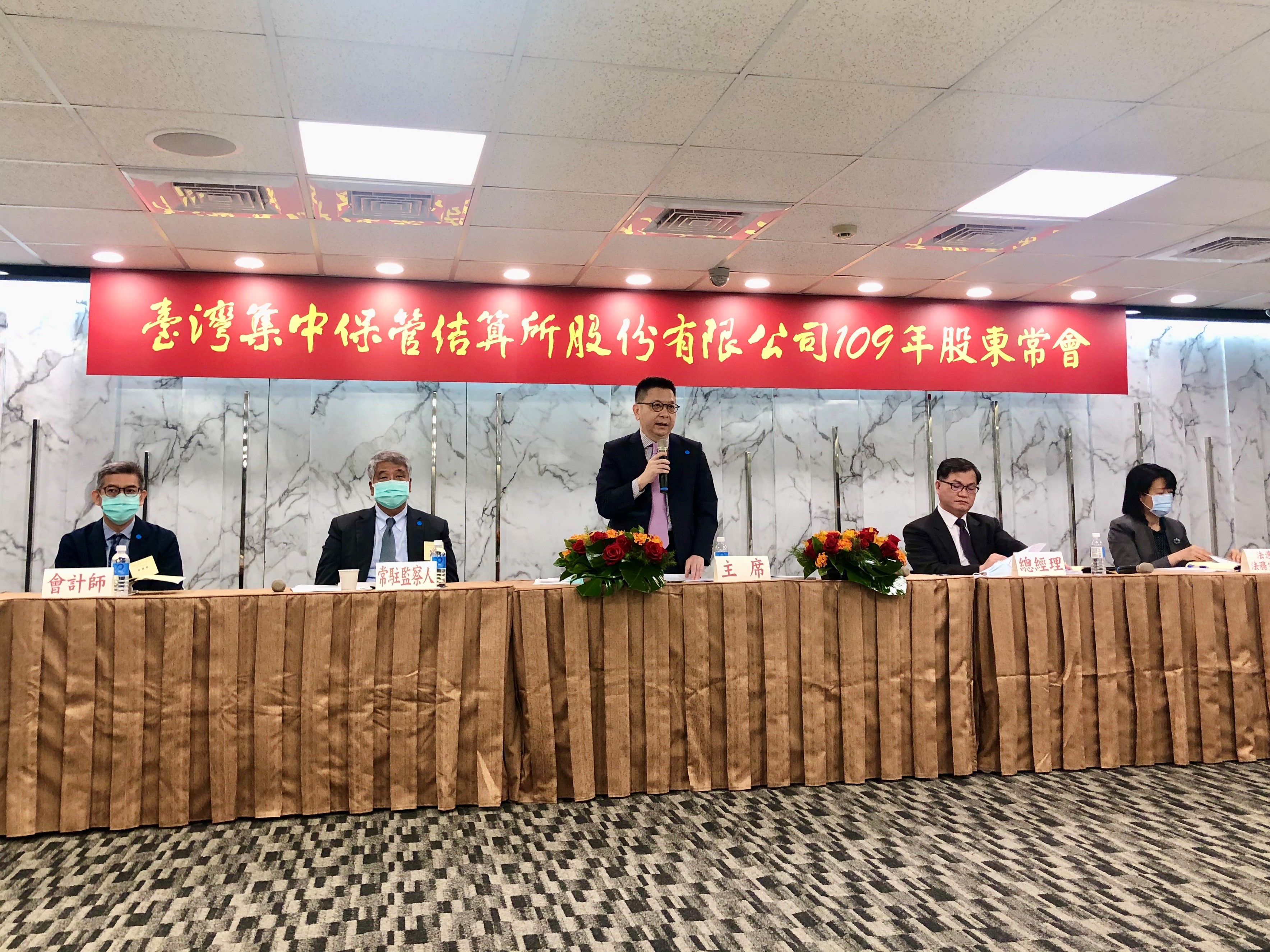 TDCC convened the 2020 AGM on June 17, chaired by Sherman Lin (middle)
As for the company's diversified business, the APP "TDCC ePASSBOOK 2.0" goes beyond the services that conventional securities passbooks can provide. As software, the APP offers an integrated service for cross-asset and cross-account inquiry and converts the inventory asset balance of each account to market value. The APP is indeed "the pioneer in the industry" that offers integrated services for asset management. Until June 10th, 2020, there have been over 1.26 million account users completing the installation of "TDCC ePASSBOOK."
TDCC has also optimized the commercial paper registration system, offering value-added services and fortifying cybersecurity. In 2019, the issuing balance of commercial papers in the form of electronic registration on the whole market accounted for 70%, which was approximately a 60% growth compared with 2018. The number of users increased exponentially, improving the issuing efficiency of short-term bills on the primary market.
ReLife Project-A Retirement Investment Plan for All, encourages the Taiwanese to reduce market risks through the systematic investment plan. The project has won widespread approval since its launch, and over 40,000 individuals have initiated their subscriptions. In 2020, it is expected that this trend can continue to perfect citizens' investment plans for retirement.
Regarding corporate governance, TDCC's "StockVote" has won the compliment as "Asia's most complete and widely used e-voting platform" from ACGA. TDCC's "Innovative Application of Electronic Voting and Straight Through Process (STP) Service Project" won Golden Award in "Digital Transformation—Public Departments" in 2019 eASIA Awards. In addition, TDCC launched the "TDCC IR Platform," introducing the concept of "ESG rating" to the listed companies in Taiwan. A webinar was also held in October 2019, serving as a bridge connecting to listed companies and inviting them to communicate with research institutes directly. Taiwan's corporate governance can therefore be elevated and linked up with the world.
As to the platform economy, TDCC has constructed a variety of public platforms, assisting securities firms and stock affairs units with regulatory compliance and internal control implementation. Besides, the company has made contributions to the government's construction of "Anti-Money Laundering and Counter-Terrorist Financing Inquiry System" and "Company Transparency Platform," winning the top evaluation, "regular follow-up," from the third-round mutual evaluation of Asia-Pacific Group on Money Laundering (APG) in 2019. TDCC also employs its big data analytical techniques to design the interactive supervisory systems, "Commercial Paper Market" and "Fund Market," offering the competent authorities real-time and interactive supervisory data and bringing the synergy of big data into play.
With regard to internationalization, in 2019, TDCC Chairman & CEO, Sherman Lin, was elected as ACG Vice Chairman and worked as a WFC Board Member on behalf of ACG. TDCC hopes to take full advantage of ACG, which serves as the platform that connects to the world. Also, in response to the government's new southward policy, TDCC has worked with CSDs from Thailand and Korea and co-organized the first "Investor Services Task Force Workshop" in November 2018, inviting professionals in the industry and ACG members, sharing innovative as well as diversified shareholder meeting services, and raising the global visibility of Taiwan's capital market.
As for corporate social responsibilities, TDCC has been promoting education in rural areas, extending care for the underprivileged, and carrying out social care ideals in actual practice. In 2019, the company received tremendous honor in corporate social responsibilities, including the second winning of CommonWealth CSR Award, the "Corporate Sustainability Report Platinum Award," and the "Social Inclusion Award" of TCSA Taiwan Corporate Sustainability Awards. The company also acquired Healthful Workplace Accreditation from Health Promotion Administration, MOHW, and Athletic Corporate Accreditation from Sports Administration, MOE, showing the brilliant results of the company's efforts.
As TDCC Chairman & CEO, Sherman Lin, emphasized at the annual general meeting, "TDCC is not only a data company but also a public data center of the capital market. In the future, through the integration of its crossover, cross-industry, and cross-border business, the company will utilize its core capability to reshape the value of financial data, to create an innovative digital eco-system, to link up with the world, and to expand as well as strengthen Taiwan's capital market."