TDCC Kickstarts Their 11th Annual Blood Donation Campaign Amid COVID-19
2020/12/28
Inventory at blood centers around Taiwan has been low due to this year's COVID-19 pandemic. In an attempt to maintain the quality of medical services at hospitals, TDCC once again demonstrated its resolve to fulfill its corporate social responsibility by calling upon its staff to donate blood for the "Giving Warm Blood in Cold Winter" campaign, held for the 11th year in a row. As a part of its continuous efforts to give back to society, TDCC also invited other firms in our office building to partake in the winter blood-giving campaign.
For 11 consecutive years, TDCC's blood and blood bag donation event, particularly the former, has seen increasing participation – over 200 bags of blood in one day. More than 2,100 people have partaken in TDCC's blood drives since 2010, with a total of 542,250cc's of blood collected. The accumulated worth of donated blood that TDCC has contributed has reached NT$9.2 million, and every year the Taipei Blood Center gives TDCC a Special Contribution Award for its benevolent efforts.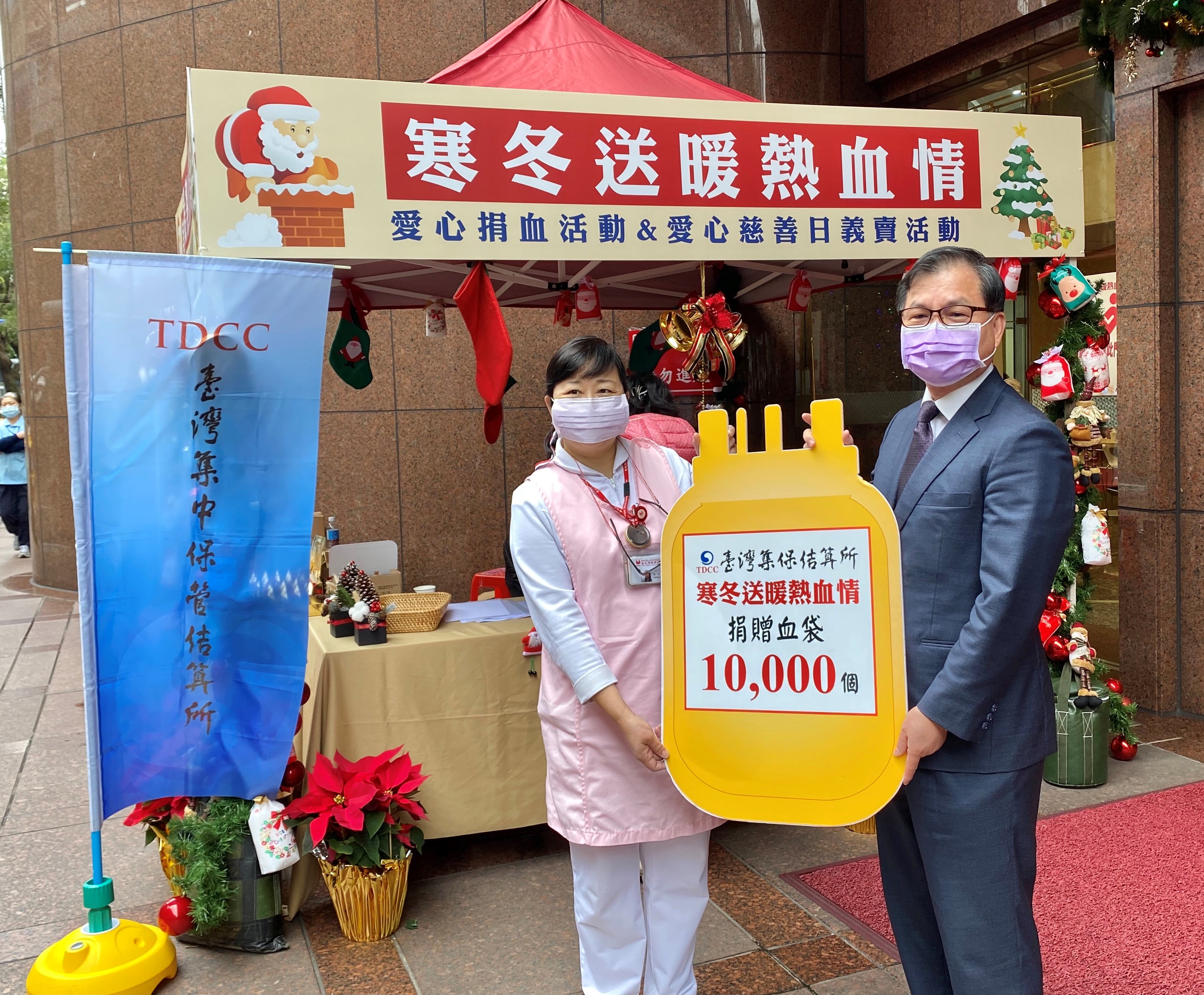 At the end of each year, the TDCC Kind Heart Club also holds charity sales event alongside the blood donation drive. Club members challange all employees and other firms in their office buildings to take up to the cause. Participating organizations that set up a booth at the event this year included the Down Syndrome Foundation, Kanner Foundation of Taiwan, Syin-Lu Social Welfare Foundation, the Garden of Hope Foundation, Taipei Autism Children Social Welfare Foundation, Victory Social Welfare Foundation, Eden Social Welfare Foundation, and Yu-Cheng Social Welfare Foundation.
Besides the charity sales event, TDCC also held a charity fundraiser and made a donation for the Huashan Social Welfare Foundation's "Bringing New Year Dishes to the Elderly" cause. Money collected from these events will go entirely to charitable organizations. After giving blood himself, TDCC President Han-Chiang Chu said that TDCC's core values are "altruism" and "seeking the common good." As TDCC tries to diversify its operations, it is also actively engaging in public welfare, by nurturing future financial talents, promoting education in rural areas, and providing care for society's underprivileged groups.
Events and activities TDCC have held for charitable causes include the "Financial Literacy for Youth" course, parent-child care events jointly organized by TDCC and TFCF, after-school and talent programs at schools in rural areas. Apart from the blood drive and charity sales that have continued for years, TDCC has also sponsored sports events such as archery and badminton at elementary schools. TDCC's active participation in public welfare hopefully sends out the message that corporations are part of society, and can help facilitate social sustainability and prosperity.