:::
Charitable Blood Donation Never Halts: TDCC Holds the 12th Annual Blood Donation Campaign
2021/12/24
Recently, due to the impact of the COVID-19 pandemic, people's wiliness to donate blood has dropped dramatically, resulting in a widespread blood shortage. Blood reserves of all blood types have plunged to a critically low level. To maintain the medical care quality of hospitals, TDCC held the 12th blood drive, appealing to its employees and asking for their enthusiastic response to blood donation. These actions have put corporate care into practice and realized the resolution to fulfill social responsibility.
In recent years, TDCC has been actively devoted to social charity, holding blood drives and blood bag donations for 11 consecutive years. The blood donation event especially receives widespread recognition and enthusiastic response from workers of other corporations in nearby office buildings. Every year, the blood donated on a single day exceeded 200 bags, infusing the warmth into the cold winter. From TDCC's first blood donation event, the number of donations has reached 2,200, with a total of 600,000cc of blood and 10,000,000 dollars for blood bag donation. Taipei Blood Center, therefore, issues an annual outstanding contribution award to TDCC every year.
At the end of each year, TDCC's Charity Club also holds a charity sale in response to the blood donation campaign. TDCC's staff and corporations in the same building are all involved because of the club members' collective effort. This year, Down Syndrome Foundation, Kanner Foundation of Taiwan, R.O.C., Syin-Lu Social Welfare Foundation, The Garden of Hope Foundation, Taipei Autism Children Social Welfare Foundation, Victory Social Welfare Foundation, Eden Social Welfare Foundation, and Yu-Cheng Social Welfare Foundation all participated and set up their booths at the charity sale. In addition to the sale, TDCC's Charity Club also started donations and raised funds for Huashan Social Welfare Foundation's "Love. Reunion Dinner" and Eden Social Welfare Foundation's Near Year Dinner. The proceeds of the charity sale and the funds raised will all go to the social welfare centers.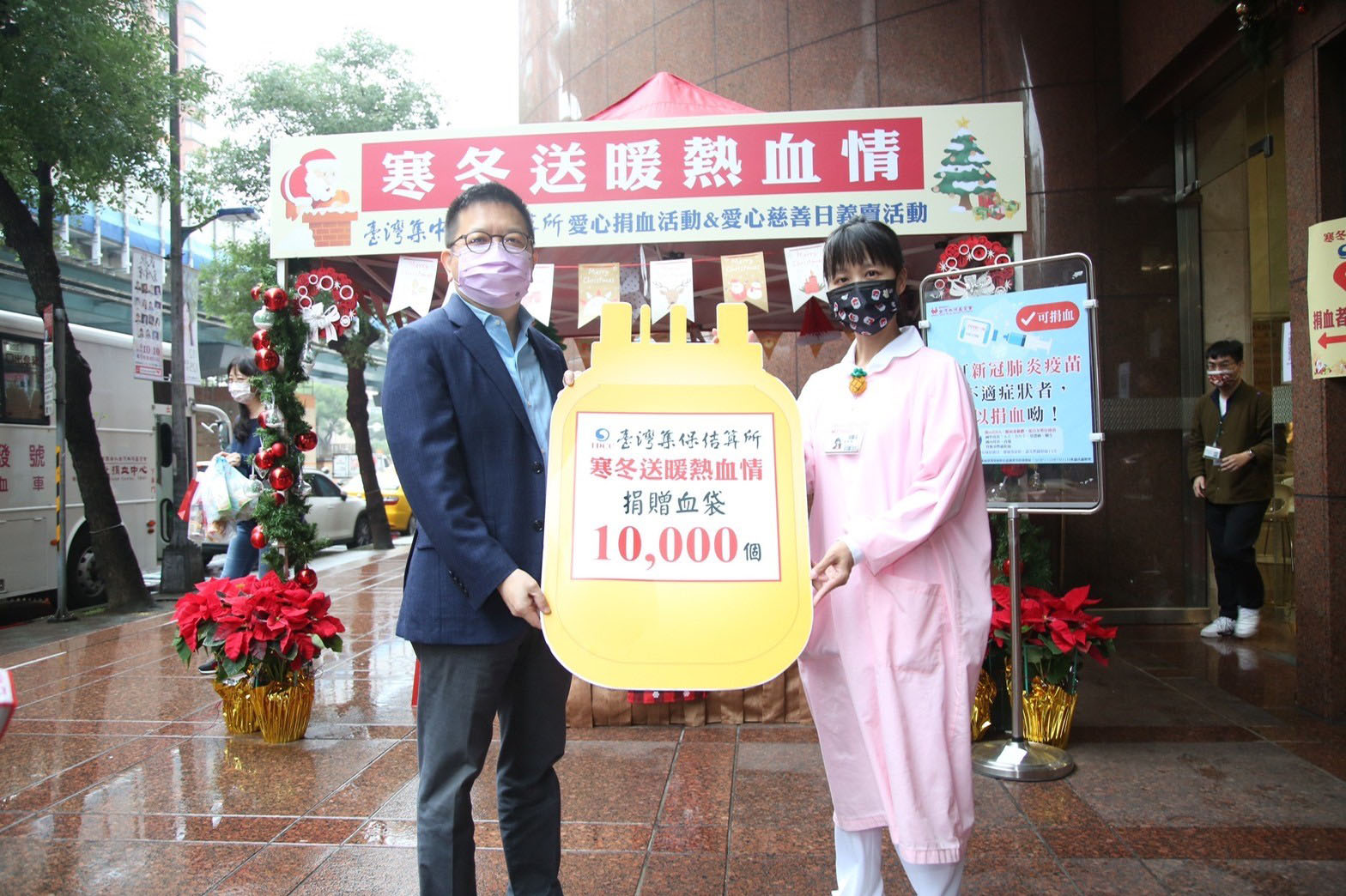 According to Sherman Lin, Chairman & CEO of TDCC, TDCC has been continuously extending care for the society and culture; besides, the company has been actively addressing the society's needs from three major aspects: "foster future financial talents," "promote rural education," and "provide care for the underprivileged." Recently, due to the drastic temperature change in a day, the incidents of cardiovascular diseases have risen, and so has the blood consumption in hospitals, which affects the blood reserves. The upcoming New Year is the time when the blood bank sustains the most acute low reserves, so TDCC holds blood donation at the end of every year, appealing to citizens to be happy blood donors and roll up their sleeves to donate blood.