Employee Health and Safety
  In order to ensure a friendly, safe, diverse, equal workplace environment, we comply with relevant laws and regulations on occupational safety and health in addition to promoting various workplace activities in these areas. In order to ensure a friendly, safe, diverse and equal working environment, relevant education training, promotion activities, and appropriate incentives are set up so that our colleagues can enjoy a more comprehensive and sustainable workplace environment free of physical and mental distress.
Labor Health, Occupational Safety and Health Management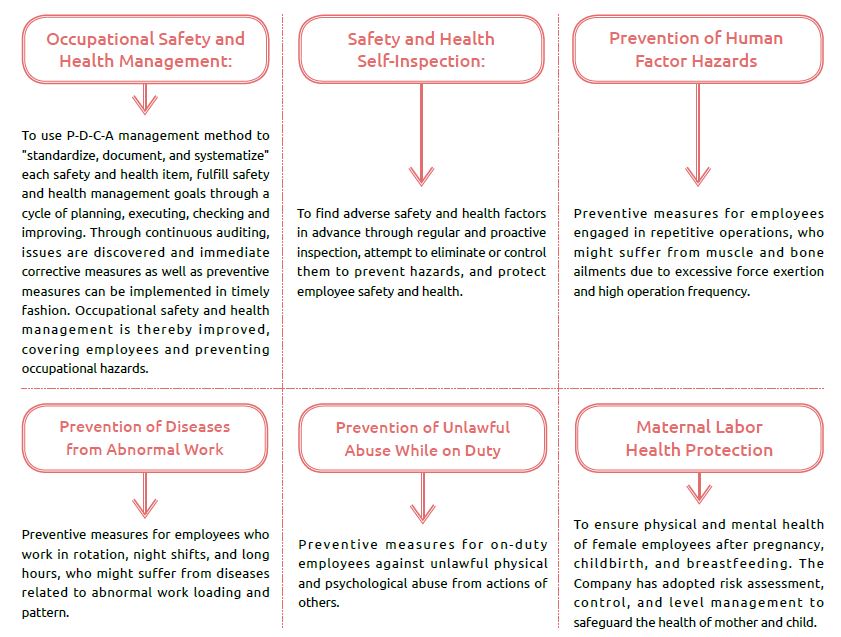 Health Promotion and Health Care
As a bench-marking companies today, we not only need to meet the regulation requirements, but also need to reduce employee workplace hazards or occupational diseases. We must move towards a sustainable enterprise and should pay more attention to modern day civilization diseases and non-occupational diseases. For example, the three highs of high blood pressure, high blood sugar, and high blood cholesterol caused by prolonged sitting, unhealthy diets, or physical and mental problems caused by the environment. Therefore, TDCC attaches great importance to the health promotion and care for the employees. In addition to obtaining the government's health workplace certification, we have 7 AEDs, 2 medical grade blood pressure monitors and record cards, a health center, and a full-time nurse or the workplace in accordance to regulations.